The Florida State University College of Music presents "An Evening of Chamber Music at Carnegie Hall"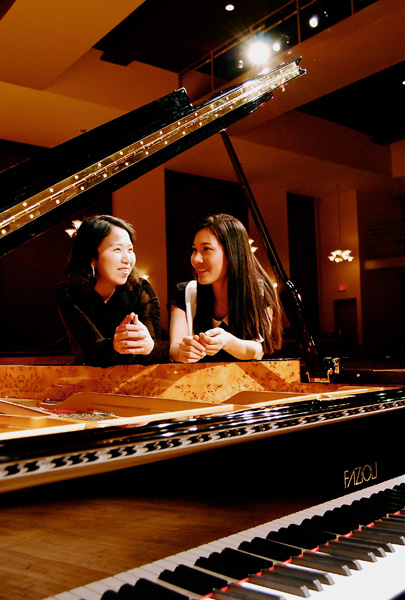 The Florida State University College of Music presents "An Evening of Chamber Music at Carnegie Hall"










Monday, April 30, 8 PM

Carnegie Weill Recital Hall


The program showcases two duos; the first half features the settings of the poetry of Langston Hughes performed by Albert Lee (tenor) and Edward Rothmel (piano). The second half of the program traces the musical journey of dynamic pianists Hyemin Kim and Joohae Kim. Hyemin Kim introduces the program with a solo piano piece "Wizards: Three Magic Masters" by American composer Judith Lang Zaimont. Joohae Kim then follows with two pieces from "Landscape Preludes" by New Zealand composers John Psathas and Gareth Farr. To conclude the recital, these two prize-winning pianists combine their talents to perform L'Histoire de Babar, written by French composer Francis Poulenc and transcribed for piano four hands by Korean-American composer Paul Yeon Lee (http://www.paulyeonlee.com).
Korean-New Zealander pianist Joohae Kim (http://www.pianists-mir.com) began learning the piano at the age of three. Joohae has completed her Bachelor and Master's degrees at the University of Auckland, New Zealand. She graduated with first class honors under leading pedagogue Rae de Lisle. With numerous successes in major piano competitions, including Kerikeri International Piano Competition of New Zealand, she was invited to record on Concert FM Radio for the Young New Zealand series then, made appearances as a soloist with several orchestras throughout the country. Joohae is now in her fourth year of Doctoral studies with Dr. Read Gainsford at The Florida State University.
A native of South Korea, Hyemin Kim (http://www.pianists-mir.com) began playing the piano at the age of seven. After receiving highest award at the Young artist competition in Daejun at age of twelve, she began performing as a soloist at Gayang Catholic Church until fourteen. When she turned sixteen, she was also a winner at the Bucheon piano competition for two consecutive years. Ms. Kim studied piano performance at Kyung Hee University in Korea and Manhattan School of Music in US under Suk Kim and Daniel Epstein. After her New York public performance in 2008, she was awarded second prize at the Chopin Competition at The Florida State University. Ms. Kim is currently completing the Doctor of Music degree under Dr. Read Gainsford at The Florida State University.
Tickets: $10.00 for general admission and $8.00 for students, seniors and FSU alumni. Tickets may be purchased by telephone from Carnegie Charge at 212-247-7800, online at http://www.carnegiehall.org or at the Carnegie Hall Box Office.
---
범양해운은 전 세계 어디로나 예술품 전시그림작품, 도예, 조각등 전문운송업체입니다. 특별전문포장으로 수많은 작가들이 이용하는 범양해운!! 지금 문의하세요. 201-755-0090 (24시간무료견적). http://www.pumyangusa.com