바이올리스트 김정연, 비올리스트 김진환 듀오 리사이틀공연.10월 28일.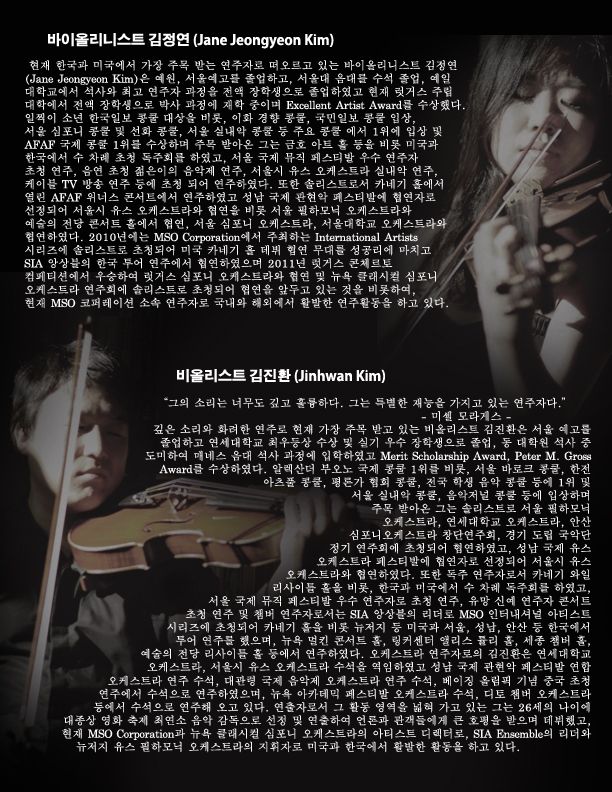 현재 한국과 미국에서 가장 주목받는 연주자로 활동하는 바이올리니스트 김정연 비올리스트 김진환씨의 듀오 리사이틀이 10월 28일 맨하탄 37가에 있는 Di menna Center 에서 열립니다. MSO코퍼레이션과 뉴욕 클래시컬 심포니 오케스트라가 공동 주최하는 본 연주는 무료 입장이고 티켓 문의는 13478696787 이나 foreverartists@gmail.com으로 이메일 문의 바랍니다. 본 연주회 정보는 http://www.facebook.com/NYCSO에서 찾아 볼 수 있습니다. Jane Jeongyeon Kim & Jinhwan Kim Duo Recital Program J. Brahms Sonata No.1 for Viola and Piano A. Piazzolla The Four Seasons In Buenoes Aires "Winter" C. Saint-Saens Introduction & Rondo Capriccioso INTERMISSION M. Ravel Sonata for Violin and Piano G.F Handel Halvorsen Passacaglia for Violin and Viola Mary Flagler Cary Hall at The Dimenna Center 450 West 37th St., New York City Friday, October 28, 2011, 7 : 00 pm Sponser MSO Corporation, JH Corporation, NYCSO, SIA Free admission
(c)뉴욕예술인협회(http://www.nyaa.kr)무단전재 및 재배포 금지.
---
범양해운은 전 세계 어디로나 예술품 전시그림작품, 도예, 조각등 전문운송업체입니다. 특별전문포장으로 수많은 작가들이 이용하는 범양해운!! 지금 문의하세요. 201-755-0090 (24시간무료견적). http://www.pumyangusa.com