YEONGHWA. Korean Film Today. SEP20-30,2012 @MoMA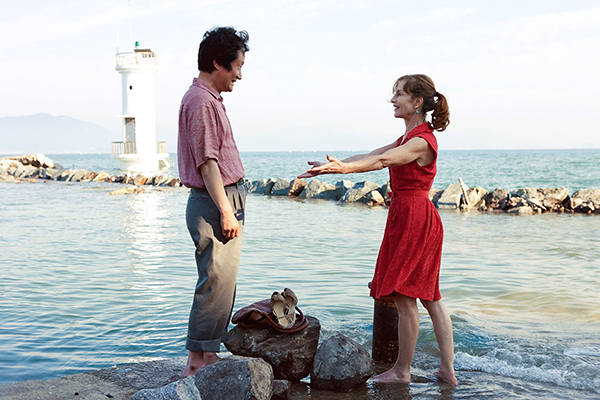 "YEONGHWA: Korean Film Today" SEP20-30,2012 @MoMA
YEONGHWA: KOREAN FILM TODAY, A WEEKLONG EXHIBITION OF EXCITING AND INNOVATIVE NEW KOREAN CINEMA
For more information: Yuni.ny@koreasociety.org or 212-759-7525 ext.323. Visit us at http://www.koreasociety.org
Screening Schedule
4:00 PM Mayumi/Mayumi Virgin Terrorist (120 min, T2)
7:00 PM My Mother and Her Guest (103 min, T2)
Thursday, September 20
4:30PM Helpless (2012, 117 min, T1) Written and directed by Byun Young-joo, from the novel All She Was Worth by Miyabe Miyuki. With Lee Sun-kyun, Kim Min-hee, Cho Seong-ha, Kim Byeol. When a woman disappears just before her wedding, her hapless fiancée enlists his detective cousin to find her, and they find unsettling answers in a corrupt economic system. This surprising thriller, adapted from a Japanese bestseller by a filmmaker best known for feminist nonfiction films, provides an original perspective on debt.
7:00PM In Another Country (2012, 89 min, T1) Written and directed by Hong Sang-soo. With Isabelle Huppert, Moon Sung-guen, Kwon Hye Hyo, Jung Yu Mi. The 'other country' is South Korea, a nation whose behaviors, particularly between women and men, Hang Sang-soo understands so well and treats with smiling affection. And finding herself in this 'other country' is Anne, a Frenchwoman played by the irresistible Isabelle Huppert, who travels to a somewhat empty seaside town. Why she comes here, who she really is and whom she meets is told three times in different story variations, all 'scripted' by a young woman in economic difficulty. The play of parallel narratives is exquisite, and In Another Country is a luminous bagatelle.
Friday, September 21
4:30PM Mirage (83 min, T1)
8:00PM Jesus Hospital (2011, 91 min, T1) Directed by Lee Sang-cheol, Shin A-ga. With Hwang Jeong-min, Han Song-hee, Kim Mi-hyang, Lee Jong-yoon. Jesus Hospital's original title is Korean for "mink coat"—an object that has passed down to a girl who believes she has received a message from God through her grandmother, who is on life support and wishes to die. Set around Christmastime in Seoul, the film delves into the emotional dynamics of a Christian family. One of the best-reviewed and most popular Korean films of the year, Jesus Hospital won the country's main acting awards for two of its leading actresses, Hwang and Han.
Saturday, September 22
2:00PM Blind (111 min, T1): Directed by Ahn Sang-hoon. With Kim Ha-neul, Yoo Seung-ho, Jo Hee-bong, Yang Yeong-jo. Director Ahn expertly mixes chills and affection in Blind, a superior genre film in the psychotic-killer-stalker mode. The potential victim here may be blind, but she is no weak and tremulous lady. Trained as a cop, the tough, resourceful young woman has known enough adversity for a lifetime—and she has a dog.
5:00PM A Fish (105 min, T1)
8:00PM Helpless (117 min, T1)
Sunday, September 23
5:30PM Stateless Things (118 min, T1)
Monday, September 24
4:30PM Blind (111 min, T1)
Tuesday, September 25
4:30PM Jesus Hospital (91 min, T1)
8:00PM Mirage (83 min, T1)
Wednesday, September 26
4:30PM A Fish (2011, 105 min, T1) Written and directed by Park Hong-min. With Lee Jang-hoon, Kim Sun-bin, Choi So-eun. In this 3-D "metaphysical adventure," a professor of logic learns that his wife, whom he didn't even realize was gone, has been found in another city. He leaves to reunite with her, only to learn that she has become a shaman on a distant island. The strange news disturbs the logician—and gradually alters his relationship with reality. Park's first feature suggests that 3-D may in fact reflect a third dimension where ghosts and talking fish inhabit the world quite naturally.
8:00PM Poongsan (2011, 121 min, T1) Directed by Jeon Jae-hong. Screenplay by Kim Ki-duk. With Yoon Kye-sang, Kim Gyu-ri, Kim Jong-soo, Han Gi-jung. Jeon was an assistant to filmmaker Kim Ki-duk, who wrote and produced this film and whose influence is at once palpable and subordinate to Jeon's own talent. Poongsan, who does not speak, carries messages back and forth between separated families in North and South Korea. When he is enlisted to smuggle the mistress of a high-ranking North Korean defector out of the North, passion intervenes, and an unexpected, "crazy" love threatens political chaos.
Thursday, September 27
4:30PM Pink (2011, 97 min, T1)
8:00PM From Seoul to Varanasi (2011, 96 min, T1)
Friday, September 28
4:30PM Fire in Hell (2012, 99 min, T1) Written and directed by Lee Sang-woo. With Won Tae-hee, Cha Seung-min, Kim Hun, Lee Yong-rye. A graduate of both UC Berkeley and the Kim Ki-duk "school" of filmmaking, Lee, one of Korea's maverick multitasking filmmakers, makes his Yeongwha debut with this sensual melodrama. In a vivid exploration of the notion of karma, a Buddhist monk loses control. The calamitous results are followed, perhaps, by redemption
8:00PM Stateless Things (2012, 118 min, T1)
Saturday, September 29
5:00PM Poongsan (121 min, T1)
8:00PM Pink (2011, 97 min, T1) Directed by Jeon Soo-il. Screenplay by Jeon Kim Kyung. With Lee Seung-yeon, Seo Kap-sook, Park Hyeon-woo, Kang San-eh. Among a clutch of derelict buildings sits Pink, a condemned bar that caters to drifters and lost souls. Jeon's eighth feature is a portrait of a struggling small business, the world-weary middle-aged woman who runs it, and her dwindling clientele.
Sunday, September 30
2:30PM From Seoul to Varanasi (2012, 96 min, T1)
5:30PM Fire in Hell (2012, 99 min, T1)
All films are from South Korea and in Korean with English subtitles
Theater: MoMA(The Museum of Modern Art) is located at 11 West 53th Street, New York, NY. For theater information, call 212-708-9400, or visit http://www.moma.org.
[ⓒ 뉴욕예술인협회(www.nyaa.kr), 무단 전재 및 재배포 금지]