Inbu Pyo.Estranged Vistas,Tenri opening on Fri. Jan. 13th, from 6-8 pm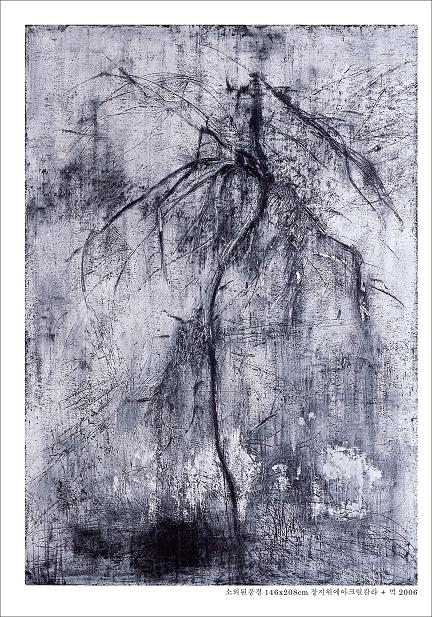 FOR IMMEDIATE RELEASE:
TENRI CULTURAL INSTITUTE
,
43A West 13th Street, in New York City proudly presents
Inbu Pyo: Estranged Vistas
,
a show that will run from January 7 – 28, 2012 with an
opening reception on Friday January 13th, from 6-8 pm.
Upon viewing Pyo's landscapes the viewer can't help but associate them with Chinese late Sung and Yuan Period wen-ren scholar-recluse paintings. Pyo's landscapes and motifs are both simplified to their most essential characteristics appearing almost totally abstract, and appear sparse yet rarefied in their starkness. Because Pyo uses white paint on paper that's been fixed on canvas scratching in his motifs, we can link his methods to Eastern and Western techniques and materials and to both ancient and modern periods. In crossing these boundaries Pyo demonstrates that he can be avant-garde yet still respect the past and history. Starting with the most recent is the association of paint on canvas attributed to the West, while paper and the method of scratching onto the surface of the works is related to the East. This sort of combining old and new, is analogous to the renewal of time-honored art methodologies. It can also be said that Pyo is using ancient Eastern art as a springboard to an originary landscape. This was the way by which Chinese artists in ancient times learned from the historic art of their own masters to proceed creating their own artistic vocabulary.
---
범양해운은 전 세계 어디로나 예술품 전시그림작품, 도예, 조각등 전문운송업체입니다. 특별전문포장으로 수많은 작가들이 이용하는 범양해운!! 지금 문의하세요. 201-755-0090 (24시간무료견적). http://www.pumyangusa.com